Witness Rose City Rollers' History with the Debut Bout of the Bleeding Hearts, a New Junior Home Team
PORTLAND, OREGON, SEPTEMBER 12, 2023 – The largest roller derby league in the world is growing as Rose City Rollers (RCR) expands its Junior Rosebuds Program with the addition of a new team, the Bleeding Hearts. The Bleeding Hearts will take the track for the first time this Sunday in their debut bout versus Death Scar Derby Droids. Head to the iconic Hangar at Oaks Park this Sunday to witness RCR history and the Bleeding Hearts debut bout.
RCR fans are itching for more action after last weekend's jaw-dropping Junior Season Opener, which went into overtime after many lead changes. This doubleheader event is a perfect way to entertain kids and teens for the day, as the 7-12-year-old Petals skate in game one, and the 12-18-year-old Rosebuds hit the track for game two. Tickets for the Juniors Season Opener are available now. This event is open to the public, and kids under 6 get in free! Tickets are $10 each or only $15 when you buy a pass for both games at the doubleheader!
"Roller derby has always been more than a sport for the skaters," says Kim 'Rocket Mean' Stegeman, RCR founder and Executive Director, "It's a community that promotes inclusivity and creates a supportive environment for LGBTQIA+ youth."
Event Details:
Sunday, September 17th
Doors at 11:30 am
Game 1 at noon: Skaters of Doom vs. Bad Apples
Game 2 at 2 pm: Death Scar Derby Droids vs. Bleeding Hearts
At the Hangar at Oaks Amusement Park
More information about the doubleheader on our website
For kids ages 7-17 who are eager to be part of the roller derby magic, Rose City Rollers is offering a 4-week Intro to Derby Series on Sundays beginning September 17th. No gear or skating skills are required to participate! More information about joining can be found on their website.
RCR offers tasty snacks and beverages provided by various sponsors, such as non-alcoholic options like Liquid Death and Lion Heart Kombucha and adult drinks like Rogue Ales and 2 Towns Cider! Stay connected with the latest news and exclusive content by following the Rose City Rollers on Instagram, Facebook, and TikTok.
For interviews or to receive a press pass, please get in touch with marketing@rosecityrollers.com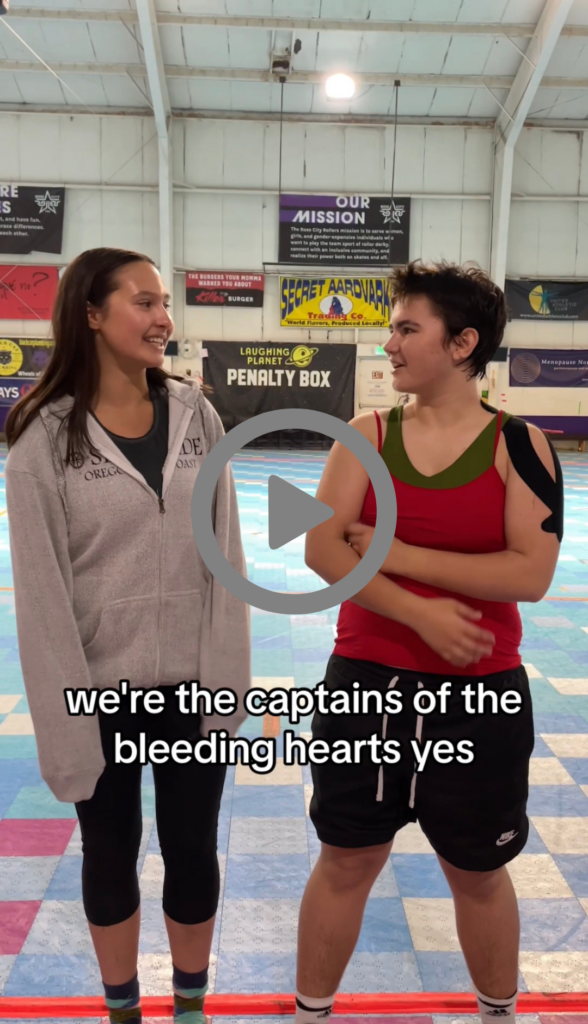 ###
Rose City Rollers is a 501c3 charitable non-profit organization of 500+ members and 17 teams and programs. Their mission is to serve girls, women, and gender-expansive individuals who want to play the team sport of roller derby, connect with an inclusive community, and realize their power both on skates and off.