Rose City Rollers will host world-class roller derby at their annual Hometown Throwdown tournament
PORTLAND, OREGON, OCTOBER 23, 2023 – Rose City Rollers (RCR) are gearing up to host a high-level showcase of international roller derby at their annual Hometown Throwdown tournament from November 3rd to 5th. Eight top-tier roller derby teams from around the globe will head to Portland for a weekend of intense competition. The Hangar at Oaks Park will be the battleground for this international roller derby extravaganza.
Roller derby enthusiasts and sports fans can witness world-class competition at this tournament. Alongside Portland's beloved Rose City Rollers, teams from Australia (VRDL), Denver, Los Angeles, Montreal, St. Louis, and a borderless team of black skaters known as Black Diaspora are set to compete. This event is open to the public, and RCR offers a range of ticket options, from tournament passes to day passes and headliner game passes.
Nicole 'Bonnie Thunders' Williams, a seasoned jammer and one of the sport's top veterans reflects on the post-COVID roller derby landscape, saying, "This year's Hometown Throwdown is the first time since 2019 that most of the top teams in the sport will compete at one tournament, which feels like a really important milestone for our sport. I'm excited to see so many friends from around the world and experience tournament energy and excitement that I haven't felt in four long and really hard years."
Morgan Levy, blocker and co-captain of RCR All-Stars adds, "We're excited to see what teams like VRDL have been working on for the last four years, and to bring back this world-class level of competition to the Hangar. We're also honored to have the opportunity to play against Black Diaspora for the first time ever."
Hometown Throwdown will be an unforgettable experience, with interactive halftime shows, great raffle prizes, and delicious food and beverage options such as Liquid Death, Yerba Mate, Lion Heart Kombucha, Rogue Ales, 2 Towns Cider, and more!
Event Details:
When: Friday, Nov. 3 – Sunday, Nov. 5
Where: Located at the Hangar at Oaks Amusement Park
More information about the tournament on our website
Game Schedule:
Friday
12:30 pm: Arch Rival vs. Axles of Annihilation
2:30 pm: VRDL vs. Angel City
5:00 pm: Denver vs. Montreal
7:30 pm: Wheels of Justice vs. Black Diaspora – Headliner
Saturday
12:30 pm: Loser of Game 1 vs. Loser of Game 2
2:30 pm: Loser of Game 4 vs. Loser of Game 3
5:00 pm: Winner of Game 1 vs. Winner of Game 2
7:30 pm: Winner of Game 4 vs. Winner of Game 3 – Headliner
Sunday
11:00 am: Loser of Game 6 vs. Loser of Game 5
1:00 pm: Winner of Game 6 vs. Winner of Game 5
3:00 pm: Loser of Game 8 vs. Loser of Game 7 – Third place game
5:30 pm: Winner of Game 8 vs. Winner of Game 7 – Championship game
For interviews or to receive a press pass, please get in touch with marketing@rosecityrollers.com
Stay connected with the latest news and exclusive content by following the Rose City Rollers on Instagram, Facebook, and TikTok.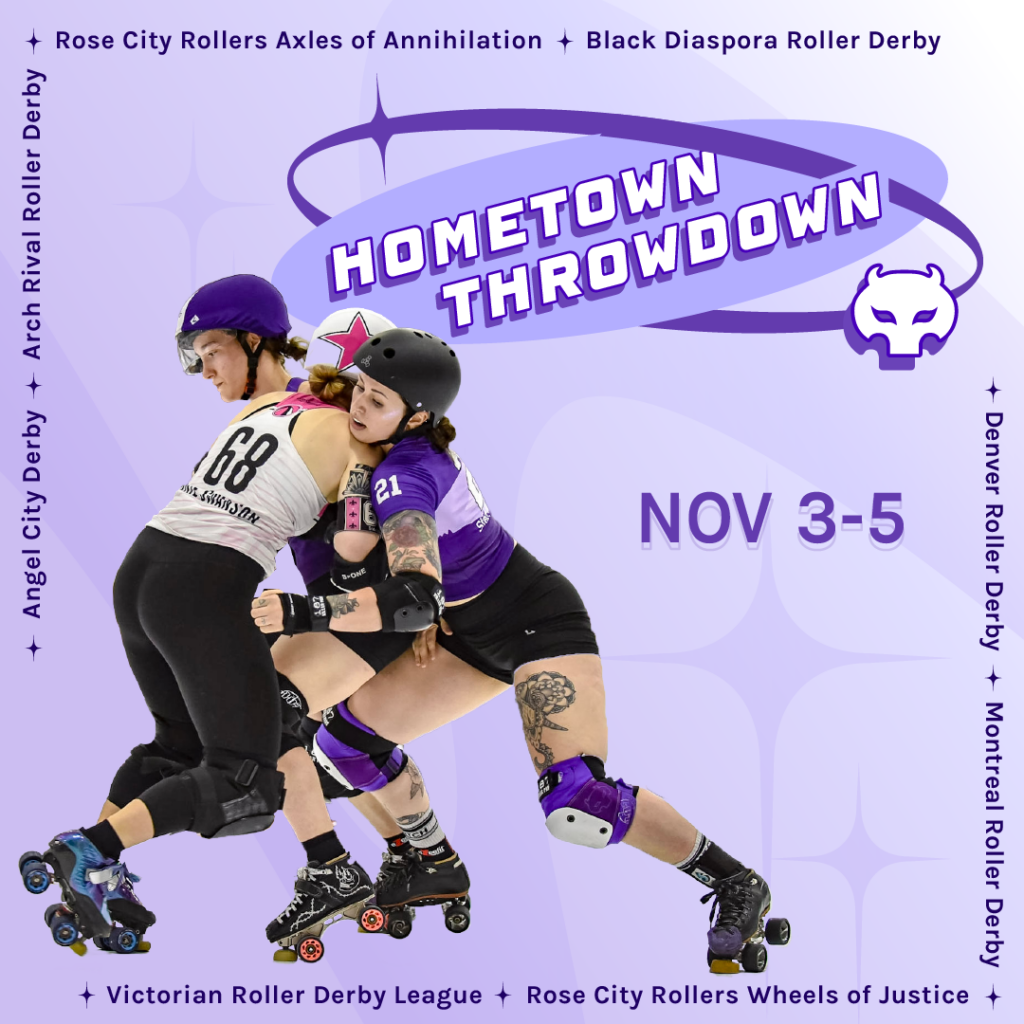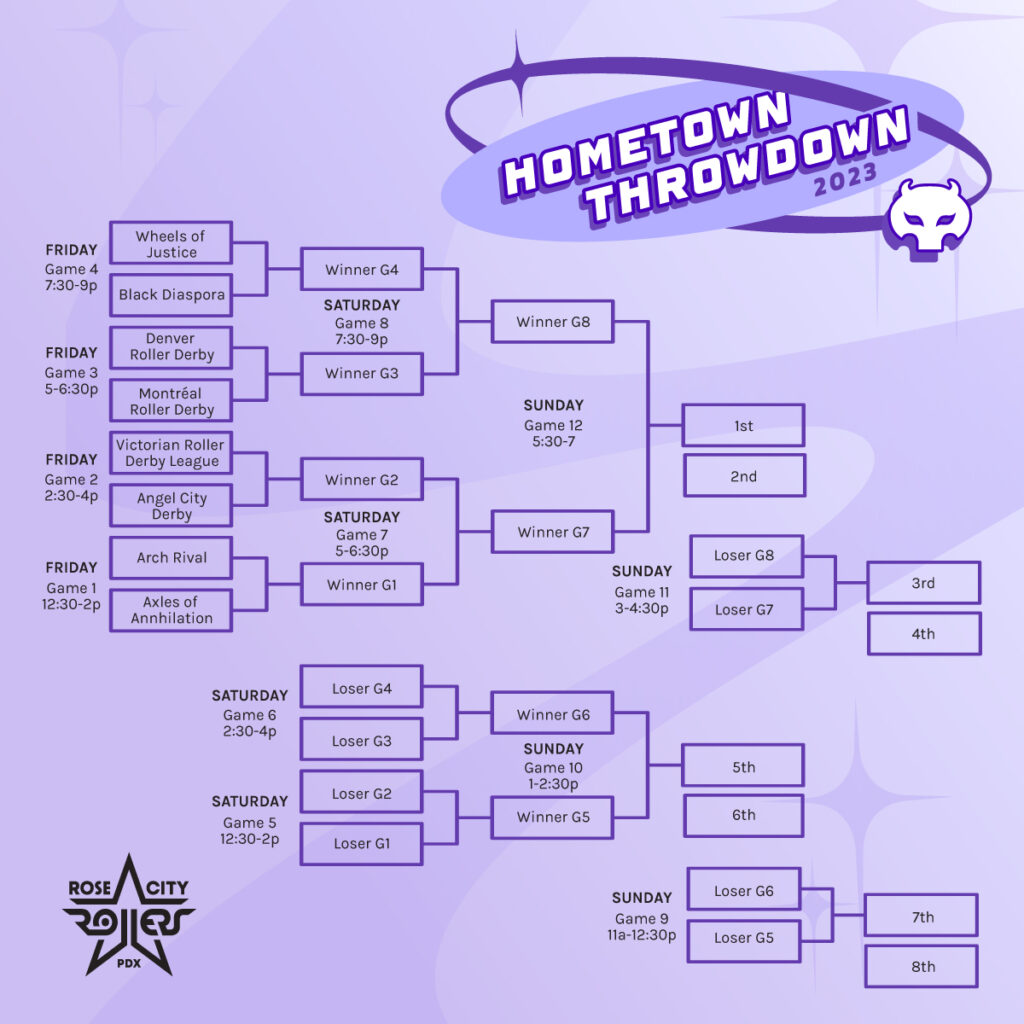 ###
About Rose City Rollers
Rose City Rollers is a 501c3 charitable non-profit organization of 500+ members and 17 teams and programs. Their mission is to serve girls, women, and gender-expansive individuals who want to play the team sport of roller derby, connect with an inclusive community, and realize their power both on skates and off.