Unstoppable Juniors of Rose City Rollers Shine on the Global Stage, Home Team Season Opener Set to Thrill Fans on September 10th.
PORTLAND, OREGON, AUGUST 27, 2023 – Rose City Rollers (RCR), the largest roller derby league in the world, heads into its 2023 Junior Home Season still reeling with excitement after the remarkable achievements of its Juniors program. RCR's Juniors All-Star Team, The Rosebuds, secured an admirable second place at the National Championships in Washington, D.C., this summer. They demonstrated incredible resilience and determination in a close game against Santa Cruz in the final, ending in 121-100. Following that, on the global stage, six talented Rosebuds swept their competition and brought the gold home to Portland after proudly representing Team USA at the World Cup in France. Team USA remains undefeated.
This momentum leaves RCR and their fans eagerly anticipating the upcoming Junior Home Team season this fall, featuring the exciting debut of two new teams: the Rosebuds Bleeding Hearts and the Petals Killer Bees. Their Junior program continues to grow with the expansion of these new teams, providing a place for young athletes to build confidence, make friends, and realize their power both on skates and off. RCR prepares to kick off the 2023 season on September 10th. This exciting doubleheader will open with the 7-12-year-old "Petals" and conclude with the 12-17-year-old "Rosebuds" in the headliner game. It will be an electrifying display of skill, strategy, camaraderie, and an atmosphere of unity that defines the Rose City Rollers' legacy.
"Roller derby has always been more than a sport for the skaters," says Kim 'Rocket Mean' Stegeman, RCR founder and Executive Director, "It's a community that promotes inclusivity and creates a supportive environment where young athletes can be their authentic selves, and thrive both on and off the track."
Tickets for the Juniors Season Opener are available now. This is a perfect family-friendly event, as kids and tweens will love watching the young athletes on the track. This event is open to the public, and kids under 6 get in free! Tickets are $10 each or only $15 when you buy a pass for both games at the doubleheader! Stay connected with the latest news and exclusive content by following the Rose City Rollers on Instagram and Facebook.
Event Details:
Date: Sunday, September 10th, 2023
Time: 12 pm-4 pm
Location: The Hangar at Oaks Amusement Park
SE Oaks Park Way, Portland, OR 97202
More information about the doubleheader on our website
For kids ages 7-17 who are eager to be part of the roller derby magic, Rose City is offering a 4-week Intro to Derby series on Sundays beginning September 17th. No gear or skating skills are required to participate! More information about joining can be found on their website.
For interviews or to receive a press pass, please get in touch with marketing@rosecityrollers.com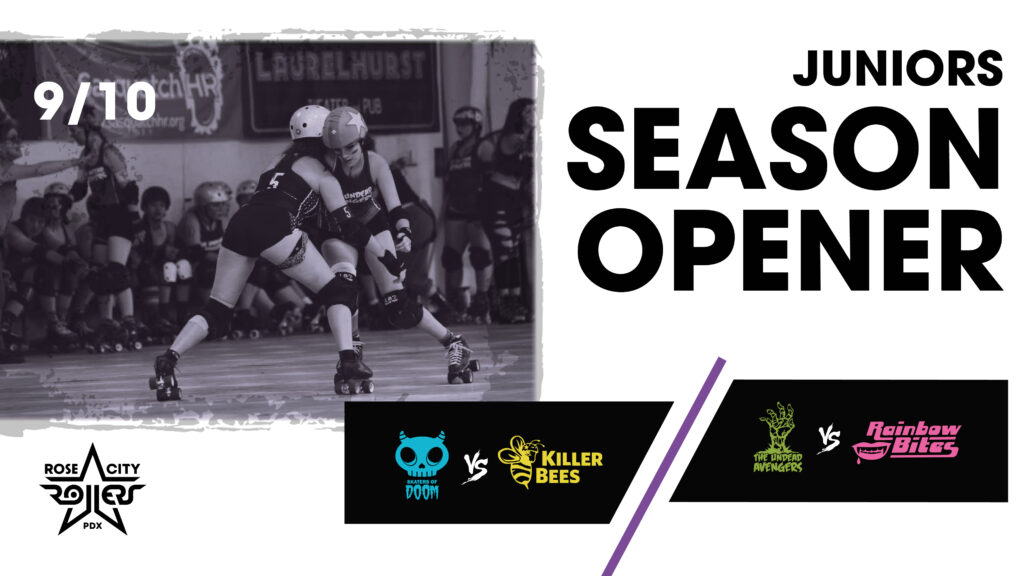 ###
Rose City Rollers is a 501c3 charitable non-profit organization of 500+ members and 17 teams and programs. Their mission is to serve girls, women, and gender-expansive individuals who want to play the team sport of roller derby, connect with an inclusive community, and realize their power both on skates and off.